Who we are: The Panchi education program was established to provide more than 200 enrolled children educational support. The program works with out-of-school children and brings them to the educational level of their peers before mainstreaming them into government schools. It also improves the academic performance of children already in-school through supplementary tutoring.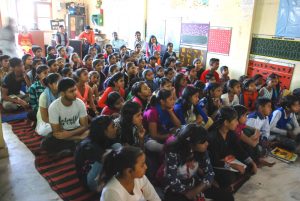 What we do: The program focuses on improving access, equity and quality of education in the Ghazipur community. The objective is to impact the school going and out of school children through a Remedial Education programme at the Gulmeher livelihood centre, which has been equipped with technology and other teaching learning resources, trained community teachers and community linkages so that they can demonstrate outcomes which are a direct output of the teaching learning activities and other outcomes which are linked to the community and indirectly influence education indicators.
One of the important goals has been to increase enrolment and provide quality education to children from Ghazipur Slum Catchment who are out of school through an accelerated learning level programme with a goal to enrol them in school. The project has witnessed an improvement in participation and reduced threat of dropout as children move from level to level in achieving their age appropriate learning levels. By provide relevant teaching and learning materials and approaches that are student-centred, promote creativity, stimulate self-paced learning for improved learning outcomes, children have witnessed holistic all round development of children with fundamental life skills development. Besides this, invaluable towards community mobilisation, enrolment drives, community linked educational events, empowering parents and awareness generation to promote positive attitudes towards education for improving enrolment of the excluded segments have been successfully executed.
Impact created:
~400 children provided remedial education and extra-curricular activities
Over 150 out of school children mainstreamed into government schools