Who we are: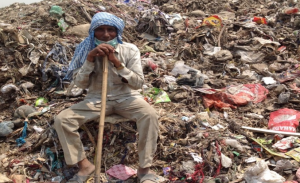 Operational since 2013, Gulmeher is a social entrepreneurship initiative that aims at Recycling, Reducing, Reusing, Repairing, Re-gifting and Recovering waste in its own unique way. This women's collective of waste-pickers turned artisans, is committed to the green agenda and believes that creating beautiful products can go hand in hand with environmental and social development. In an endeavour to provide customers handcrafted products while supporting and encouraging craftsmanship – skilled designers train Gulmeher women to handcraft each product using discarded flower petals arranged together laboriously to breathe life into the designs.
What we do:
Ghazipur is one of Delhi's oldest landfills and features in the world's 50 largest landfills. The Gulmeher initiative was born out of a desire to improve the livelihoods and quality of life of the 350 waste-picker households in the slum, focused on initiating alternative income generation. Given the background of the community in handling waste and various markets (flower, vegetable, meat etc.) the focus was on creating a platform for waste-pickers to generate income using local resources. The project design was also influenced by preference of the waste pickers to be close to their hutments to address various safety concerns.  Gulmeher (literally, "blessings of the flowers") was born in May 2013 to train women to make stationery products from waste flowers and paper.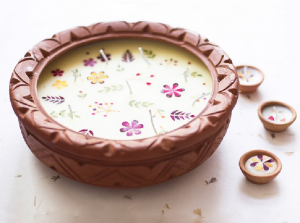 Gulmeher had to overcome significant challenges including mobilization, training the women, quality issues and finding a market for various products. The Gulmeher collective has grown to include a host of other initiatives for creating new livelihood opportunities for the needy women. The collective has incorporated the Gulmeher Green Producers Company (GGPC), with women waste-pickers as shareholders and many of them earned between Rs. 6,500 to 7,000 per month. A social survey conducted recently, estimated that the number of women from the slum going to the landfill has reduced by more than half indicating that Gulmeher initiatives have successful started to create alternative livelihood opportunities.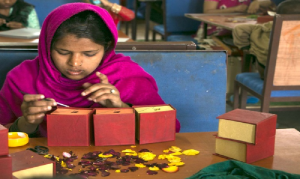 The innovative model of Gulmeher not only focuses on the livelihood generation aspect for erstwhile waste-pickers, it also combines social initiatives to meet the needs of the waste-picker community, such as financial inclusion, crèche for young children, after-school program for students, health services through a mobile medical unit and a toilet block for sanitary needs. A program on financial inclusion was implemented-till date 2800 zero balance accounts have been opened and remittances greatly benefit the migrant population of Ghazipur. A recent addition to the social programs has been the waste collection, segregation and composting project, which Gulmeher is piloting in the DDA residential colony of approximately 1000 households.